I know, I know….FALL already? It feels like Summer just started. As much as I love me some Summer, I love Fall even more though. The colors, the leaves, the warm sweaters, the hot drinks…it is definitely MY Season.
I wanted to share with you guys some Fall Makeup Trends that will ACTUALLY be easy to pull off yourself. Sometimes I see Fall Trends come out, and I wanna say….um noooo I would never wear that (I'm talking to you huge bushy brow trend)!
So here's 6 Fall Trends you can ACTUALLY pull off (and WANT to!).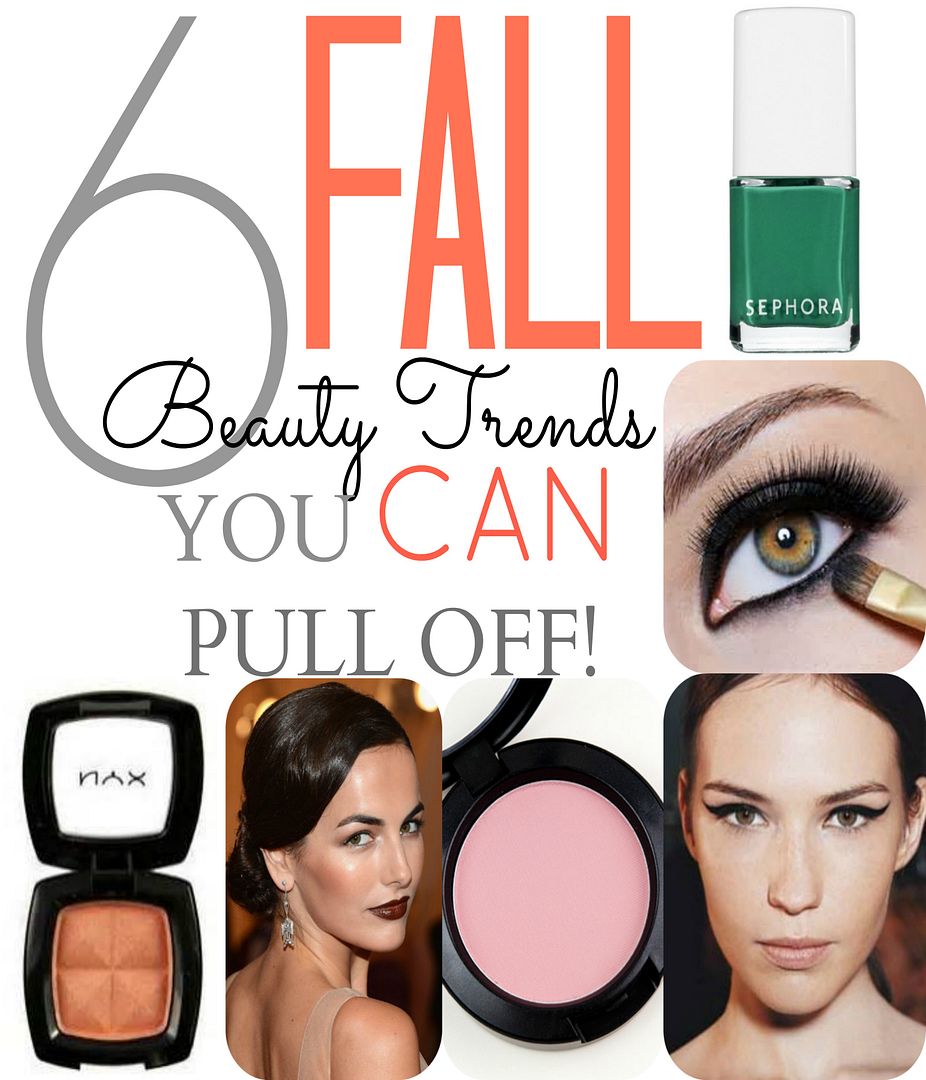 You can totally rock this look. Apricot is one of my go to colors. Fall is all about warm, beautiful colors. Apricots, Warm Beiges…even light Orange. Trust me..you can pull it off. 
Fave Color for this Trend:

NYX Shadow in Copper

One of my fave trends for this year…DARK lips! I dunno why I feel like I look so dang good in dark lips…but hey…I do. ;) And you will too! There's something about putting on a bold lip that makes you feel like BAM! I can rule the world.
Fave Color for this Trend:

Smashbox Be Legendary Lipstick

Since you'll be going pretty dark with the lips, it's good to have a lighter color somewhere else. Enter – pale pink blush. I love the soft glow pink blush gives to ANY skin type. 
You know you can rock this look!!
Fave Color for this Trend:

MAC Well Dressed Powder Blush

Once I learned how to do a good cat eye, I couldn't get enough. I promise it's easy…there are tons of tutorials on how to pull it off if you're nervous. My trick is to get an amaaazing liner that does half the work for you. Once you do it – you'll never look back!
Fave Product for this Trend:

NYX The Curve Eyeliner 

Smokey eyes are one of my fave trends EVER. If I'm going out with the girls or on a date with the hubs…smokey eyes are always coming with me. If you are doing a smokey eye, make sure to tone down those lips (aka no Bold Lips for this one). Choose one or the other. Did you know you don't have to do a black smokey eye either? Deep purple shadow/liner or Dark Brown shadow/liner make a great smokey eye too!
Fave Product for this Trend:

Too Faced Smokey Eye Collection

Every year, Pantone picks their "Color of the Year." For 2013, it's Emerald Green. Yes, it's kinda bright. So my fave way to wear this trend is on my nails. It is actually SUPER pretty on your fingers. Try it…you'll thank me later. 
Fave Product for this Trend:

Illamasqua Nail Varnish

 

There ya have it. Which trend are you going to try this year?!

{BLOG} {INSTAGRAM} {TWITTER}