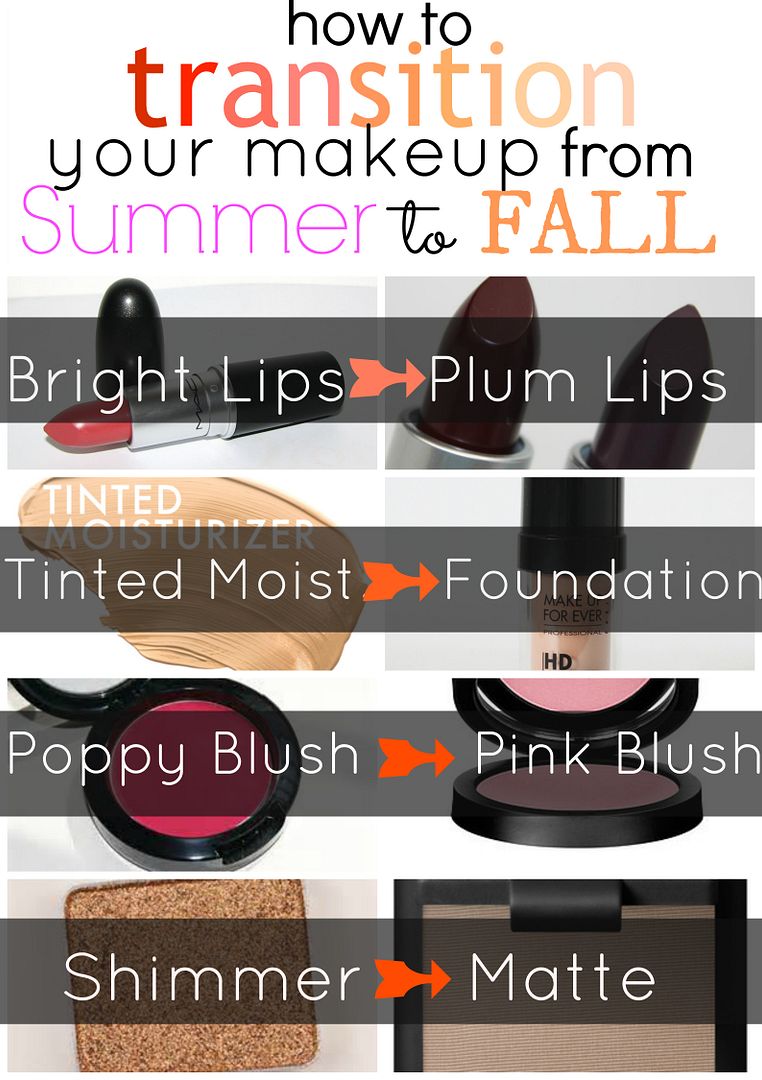 Yup. It's officially Fall (I felt Fall creep right up my shorts today when I got out of my warm bed this morning! Hehe.) This is my fave season – have I mentioned I love Fall, yet?! I'm loving going to Nordstrom & Target right now. Not only for the warm clothes (yes, please)..but for all the new, gorgeous Fall Makeup Trends.
I'm here to help ya transition your makeup bag from Summer to Fall. It's easy, I promise! Just a few simple changes & you're on your way to having the perfect Fall Look!
Get rid of those bright pink & coral lips, and trade them for some deep, amazingly gorgeous plums. It's flattering on EVERY skin tone. Yes, every skin tone. There's something about throwing on a plum lip that makes ya feel all sultry and sassy…and you'll never look back.
HIGH END FAVORITE: Nars Lipstick in FAST RIDE
DRUGSTORE: Maybelline Moisture Extreme in GO CURRANT
I dunno about you, but my tan is LONG GONE. Gone are those days when you can just throw on some tinted moisturizer on top of that glowy skin & go. Have no fear, foundation is here! If you get the right foundation (I'm all about going to a dept. store & getting matched!) it will STILL give you that glow without looking like a cake-y mess. You'll want a flawless face for all those snuggle-filled nights by the fire with your honey.
HIGH END FAVORITE: Makeup Forever HD Foundation
DRUGSTORE FAVORITE: Revlon Colorstay Foundation
If you know me at all, you know I lurrrrve me some bright poppy/pink blush. But alas, I can't wear it all year. Since your lips are going to be dark, you'll want to tone it down to a more subtle pink. A light rosy color is the perfect pop of color for Fall. My fave?
HIGH END FAVORITE: Bobbi Brown Blush in Nude Pink
DRUGSTORE FAVORITE: NYX Powder Blush in Amber
So long, shimmer. Hello magnificent matte. Matte shadow is gor-geous on. Really nothing makes your eyes stand out like a beautiful, deep shade of brown or grey (depending on your eye color)!
HIGH END FAVORITE: Laura Mercier Matte Shadow (try Twilight Grey)
DRUGSTORE FAVORITE: Loreal Infallible Eyeshadow (try Continuous Cocoa)
———————–
As this is my last official post as a contributor for Lovestitched, I just want to say THANK YOU!!! Thanks for reading my posts, emailing me questions, taking my advice & reading each of my posts! It was really a fun ride!
Brittany has some awesome readers! 
I'm soooooooooooo excited for her and her next BIG STEP in making her blog/business a huuuuuuge friggin' success!!